I am often asked, "So, Liz, you're Mexican. Where can I get real Mexican food in DC?" And honestly, I do pride myself on knowing what's up with Mexican food because I've had the experience of eating the real stuff out of my mom's kitchen for so many years (my mom is an excellent cook and I wish I had inherited her cooking skills). Absolutely nothing compares to my mom's tamales, a family recipe that has been passed on from one generation to the next. Because of the deliciousness of her tamales, I won't eat them anywhere else because any other tamale would be a disappointment.

However, I am open to trying the other Mexican food that's out there, outside of my mom's kitchen. Unfortunately for me and my refined palate for Mexican food, that means I can tell when beans have been cooked out of a can and the rice doesn't have enough seasoning.

First off, Lauriol Plaza is not the best Mexican in DC. Actually, they have a combination of all kinds of food from Latin America and Mexico. Don't get me wrong. It's nice to have variety, but the food is decent, not over the top. Surely the reason why this restaurant is packed every weekend is because of the delicious margaritas, because their food is average and the service could be better. I will admit though that I do love their salsa.

The only dish I have eaten at Lauriol Plaza is the cheese enchiladas (actually, I lie. I did have their special once on crab and shrimp quesadillas and those were decent). Why? Well, because it's pretty freakin' hard to mess up enchiladas. And cheese is just cheese. But I've savored the dishes of friends I have gone to LP with and I fail to see the appeal, especially when there are other places in DC to get some yummy Mexican.

When I lived on the Hill, I frequented La Loma and La Lomita Dos (can't tell you why I haven't been to La Loma Uno). Again, average food, great drinks. On more than one occasion, I have questioned the freshness of the beans. Beans are one of the basic food groups in Mexico. If you ruin the beans, I don't have much hope for the rest of my meal.

By far, the best Mexican I've ever had in DC was at a now-defunct restaurant named Enriqueta's. It was on the non-trendy side of M St. in Georgetown (close to where M and Penn meet) and has since been replaced by another Mexican restaurant. I had been to Enriqueta's twice before I found out that it was closing due to the rising cost of rent. But those two meals were two of the best I've had in the city. The salsa was perfect, almost as good as my mom's back home (yes, she makes her own salsa and pico de gallo and guacamole too). I had the mole enchiladas both times I was there and the mole tasted just like my mom's: a perfect combination of spices and chocolate to create the little taste of heaven that is mole.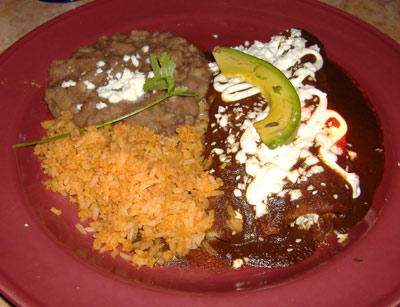 enchiladas de mole, rice and beans, image courtesy of www.ocmexfood.com
Since Enriquetta's closed, I have only had a handful of memorable Mexican meals in the District: most of them at
Taquería Districto Federal
. Owned by a pleasant Salvadorean man who married a Mexican woman, this place is not only good because the prices are outrageously low, but also because the stuff comes from Mexico! Like directly! Even the Coke (If you're wondering, Mexican Coke is sweeter than American Coke)! Also, they make their own
aguas frescas
and serve them out of cut out water jugs, just like all authentic Mexican places do. And the food...oh lordy. Just thinking about their tacos makes my mouth water.
aguas frescas, image courtesy of www.fruitilicious.biz
If you're looking for fancy, authentic Mexican, check out
Casa Oaxaca
. I had the mole enchiladas there too and I was really impressed by how delicious it was. This restaurant is a great date spot, with it's low lighting and beautiful artwork on the walls. Jesse and I went there to celebrate an occasion with our friends and we were seated next to the kitchen, which normally I would be opposed to, but I welcomed the pleasant aromas that emanated from the kitchen. It reminded me so much of home.
Across the river, I've enjoyed a couple of Mexican restaurants--one of them being Casa Oaxaca's Arlington counterpart,
Guajillo
. But the place I go to time and time again to get my Mexican food fix is
El Charrito Caminante
on Washington Blvd. OMG. The tacos are to die for. The beef and chicken are seasoned, cooked to perfection, and practically melt in your mouth. The burritos are bigger than Chipotle burritos and stuffed with meat, pico, salsa, etc. You can even get them covered in salsa if you choose. Also, the prices are insane: $2 for tacos, $4 for burritos. Yeah, the menu is as limited as the seating there, but it's still a great quick fix Mexican place.
Here's the thing with Mexican food. It doesn't need to be complicated. It doesn't have to be fancy. All I ask for is proper cooking times, fresh ingredients, and appropriately seasoned items.
Is that too much to ask for?
*By the way, I am not a food critic, nor do I pretend to be. If you disagree with any of the above or have experienced an authentic meal in a restaurant not named, please comment. I have not been to every Mexican restaurant in the metro area, but I've looked for real Mexican for 5 years in this city so I feel like I've tried a lot.