USC football finally starts in 33 days and, OMG, I can't wait. NFL football will be starting soon too and, while I don't have a team (LA hasn't had a team in forever), I'm content to follow the Trojans who have turned pro. I cheer for the individual players rather than teams.

One player that always makes me yearn for the USC of old (and by old, I mean 4 years ago) is LenDale White. You might remember him as being the Thunder to Reggie Bush's Lightning. LenDale decided to turn pro rather than play college ball his senior year and that decision bummed out many USC fans (especially this one). So I've been expecting great things from him as a pro.

Apparently, LenDale has been having some weight issues.

Here he is being the awesome running back he was while at USC.

eat dust, silly oregon ducks defensive player!
Then he turned pro and gained some weight. And while he was doing fine as a pro, his weight really affected his speed (his speed was actually an asset while he was at USC).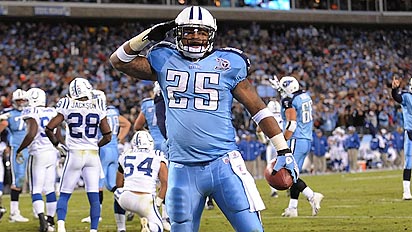 photo courtesy of espn.com
Now, LenDale has lost 30 pounds and is a little lighter than he was as a player at USC.
photo courtesy of jacksonsun.com

How did he shed the weight? Well, he gave up tequila. When asked about his weight loss plan, LenDale commented, "I really got to be honest. It wasn't a lot of major diet changes. (It was) watching what I drink. I was a big Patron consumer. ... That's what it was. I was drinking a lot, drank a lot of alcohol. I cut that out of my diet all the way. I don't drink at all. I cut the drinking, I stopped drinking for six months. And it started falling off."
I commend LenDale for his ability to stop drinking, but how much does one have to drink to put on 30 pounds? Sounds like a lot of drinking and he should be looking into that as a health issue. I've seen many alcoholics drop weight while in treatment so I'm hoping LenDale doesn't have a problem (and if he does, he should seek treatment).
On a lighter note (no pun intended), I do hope that his recent weight loss will make LenDale more thunderous on the field.